Feature Updates
All the latest ContractZen feature updates are listed here.
October 4, 2023
INSTANT SHARING WITH SMARTINDEX VDR
Your SmartIndex document trees (indexes) can now be shared via our Virtual Data Room (VDR) service. In this first phase, you can create a Basic SmartIndex VDR, which is a quick and simple way to share the whole index and its materials with any external parties. Just go to any of your index, scroll down to the bottom of the page and click Create a VDR from this index.

The Basic VDR is always free for 30 days, after that the cost is 9€/$9.80 per month. The Basic VDR can have max 5 users.

We will soon introduce the Pro SmartIndex VDR which offers a more detailed access control with folder-based access groups for a larger number of users.

SMARTINDEX - DUE DILIGENCE AND COMPLIANCE SIMPLIFIED
Our SmartIndex tool, enhanced with instant sharing capabilities through our SmartIndex Virtual Data Room (VDR), brings unparalleled ease to your due diligence and compliance tracking and reporting. Here's why you'll love it:

🌟 Easy Compliance Tracking & Reporting: Seamlessly handle everything from contracts and meeting minutes to financial statements, making compliance tracking, audits, and ESG reporting a breeze.

🌟 Ready-Made Templates: Jumpstart your process with our editable index templates designed for legal due diligence and ESG.

🌟 Instant Sharing with VDR: With just a click, share your entire index and materials via our Virtual Data Room, eliminating extra steps and ensuring efficient reporting.

🌟 Enhance Business Resilience & Trust: Showcase your company's resilience, increase transparency, and foster trust with stakeholders. SmartIndex makes intangible values evident during due diligence or audits.

Read more about SmartIndex >>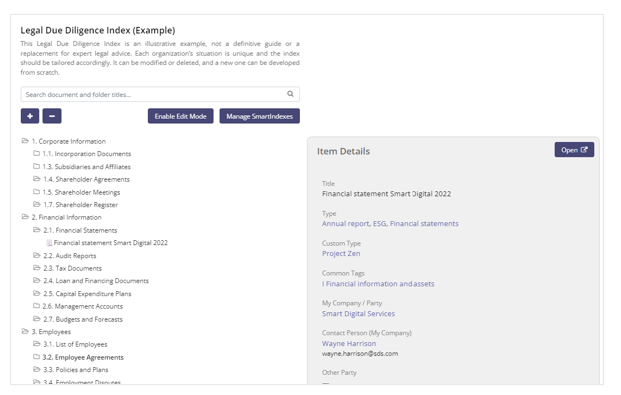 ---
AI ASSISTANT POWERED BY AZURE OPENAI
We are thrilled to announce the upcoming addition of a transformative new feature to our governance suite: the AI Assistant, powered by Azure OpenAI technologies. This state-of-the-art tool is designed to elevate your governance processes, making them smarter, faster, and more efficient.

Starting in just a few weeks, we'll be launching a Beta program for our AI Assistant. As an esteemed customer, you have the exclusive opportunity to be among the first to experience it. If you're a ContractZen account administrator and are keen to dive into the future of governance, you can contact us to access the Beta program.
WHAT CAN THE AI ASSISTANT DO FOR YOU?
We will gradually introduce more and more AI-powered features into our governance suite. In the first phase of our implementation, you can:

⭐ Ask and Learn: Get instant answers about contracts, their specific clauses, and more.

⭐ Analyze and Summarize: Distill contracts to their essence, making it easier to grasp key details quickly.

⭐ Translate: Break down language barriers with contract translations.

⭐ Discover Insights: Dive deep into governance-related insights with the power of the world's leading AI, all seamlessly integrated into our all-in-one governance platform.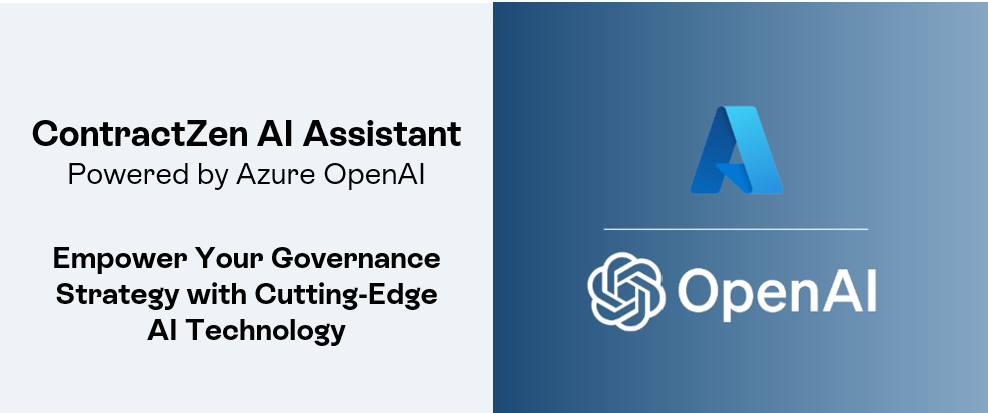 THE PRIVACY & SECURITY OF YOUR DATA IS OUR TOP PRIORITY
We respect concerns about AI, especially those related to privacy. AI Assistant is an optional feature and will only be activated by request for those interested in AI-powered features.

Rest assured, your prompts, completions, embeddings, and training data:

Are NOT shared with other customers or OpenAI.

Are NOT used to enhance OpenAI, Microsoft, or third-party products.

Are NOT used for auto-improvements in Azure OpenAI models within your resource.
The Azure OpenAI Service, controlled by Microsoft, operates independently from all OpenAI services, including ChatGPT and the OpenAI API.

More information about the opt-in AI Assistant and its pricing will be announced soon.

Stay ahead with AI-powered governance. We can't wait to see you on board!
---
September 7, 2023
WHAT IS SMARTINDEX?
SmartIndex goes beyond standard metadata and tagging with the Multidimensional Index Model (MDIM) for comprehensive indexing, making compliance tracking more manageable and intuitive.

Essentially, Smartlndex lets you quickly create and manage various document sets from one central repository, your ContractZen account. Just tag them into organized folders using an intuitive tree view.

By providing smarter tools for document indexing and secure sharing through ContractZen Virtual Data Rooms (VDR), SmartIndex meets the increasing demands of compliance and audits.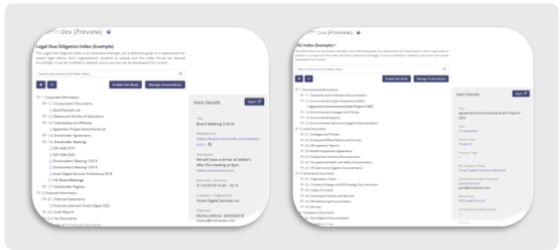 INSTANT VALUE WITH READY-MADE TEMPLATES
You can access the SmartIndex by clicking the link in the header. We have created the first two example templates to all accounts. By default, the administrators have access rights to the SmartIndex and to the Legal Due Diligence Index, which can be modified by your needs. Also, there is an example ESG index which you can create in the Manage Smartindexes page. Our Standard plan includes 1 index per account. The Advanced plan includes 20 indexes. You can edit the example indexes however you want or delete them and create a new index.
You can find more info about how to use the SmartIndex at https://contractzen.uservoice.com/knowledgebase/articles/2006176.

If you have any questions about the index or improvement ideas, please contact us!

SHARING INDEX TREES VIA VDR
We are in the final stages of developing a streamlined method for sharing the indexes via a Virtual Data Room (VDR). Basic SmartIndex VDR will be a quick and simple way of sharing an index tree with single access right level for the users in the VDR (all users in the VDR can access all material of the shared index). The Pro SmartIndex VDR allows a more detailed access control with folder-based access groups.

We will inform you as soon as the share function is ready!
---
OUR NEW WEBSITE LIVE
During the summer, we revamped our website, bringing you a more sleek, modern design. Experience enhanced speed and delve into a clearer depiction of our governance suite's value — specifically crafted to empower financial and legal teams in fortifying business resilience, transparency, and compliance globally. We invite you to explore and share your insights as we persistently refine our platform.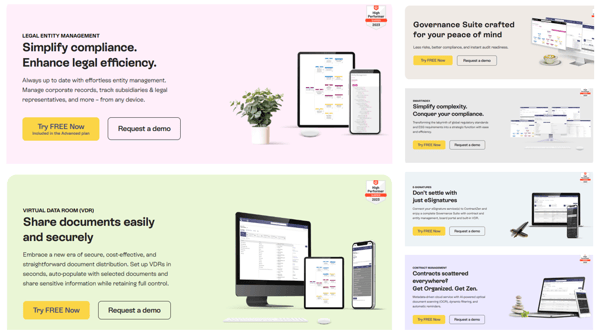 ---
BOARD PORTAL UPDATES

Easily Track Meeting Minutes Signing Status
You can now mark meetings as "Signed", making tracking which meeting minutes are signed and which aren't easier. When you send a meeting memo for signature from ContractZen using our integrated eSigning services, we'll automatically mark it as signed once the signing case is completed. You can manually mark them as "Signed" by clicking the signed icon on the right side of the Overview page (next to the star icon).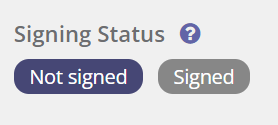 In the meetings list view page's advanced search, a new Signing Status search filter will help you easily find signed/unsigned meetings. Do note that meetings created before March 4, 2023, will only appear in this new search filter once their signing status is manually updated (to either signed or not signed).
Add Page Numbers to Your MeetingBook Agenda Pages and Meeting Minutes
The agenda creator can now add page numbers to the MeetingBook agenda pages and the final meeting minutes on the bottom of the agenda edit page, making it easier to navigate your documents. Please remember that the page numbers will not be added to the attachments you have included to the agenda and meeting minutes.

Never Lose Your Edits
Agenda & My Notes edit pages now show a warning message if you try to leave the page without saving when edits have been made, ensuring that you never lose your work.

---
OTHER UPDATES
Updated PDF Viewer
We have improved our PDF viewer, which opens when you click a PDF file's name in ContractZen. This updated version supports most popular electronic signature certifications, ensuring they are visible in the PDF viewer (earlier, there was an issue with Visma Sign's signatures).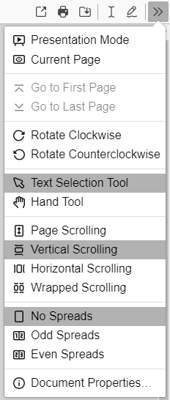 You can also now draw or write text directly on the PDFs in your browser. Those features can be used by clicking the icons in the top right corner when the PDF is opened.

NOTE! If you're experiencing issues with the updated PDF viewer, simply clear the browser cache: do a so-called "hard refresh" by holding down Shift and clicking the Reload button in your browser, or go to the browser settings and clear the cache.


View Contracts by Effective Date
When you open any List View page in the Contract Management, the contracts are now ordered by the Effective Date by default, providing a convenient chronological snapshot of your contracts. Of course, you can still order the contracts according to, for example, title, expiry date, or modified date.

In addition to these major updates, we've also made several minor UI updates, bug fixes, and improvements to enhance the speed and reliability of ContractZen.
---
COMING SOON - SMARTINDEX!
We've been diligently working behind the scenes to bring you a groundbreaking feature - the SmartIndex. This pioneering tool offers a robust solution for organizations to manage, organize, and share their vital documents and data. With its unique capability for multi-dimensional indexing, SmartIndex ensures streamlined compliance with regulatory audits and enhances efficiency in due diligence processes.

Stay tuned as we will launch this service to our customers in the near future.


---
January 20, 2023
IMPORTANT ENTITY MANAGEMENT UPDATES

Access Groups
To improve and allow more detailed access control, we have expanded the Access Groups add-on feature to Entity Management. With this feature, it is possible to set user access per entity (or entities). Account administrators can find more info about the Access Groups in the in-app Store.
Custom Metadata
Our Custom Metadata add-on feature is now available for Entity Management as well. With this feature, you can create max three (3) new metadata fields of your choice. Name them freely and select the type for each new field (available types are text, date, number, multi-select, or radio button). Account administrators can find more info about this in the in-app Store. Remember that Custom Metadata is also available for your Contracts!
LEI code
We have created a new field for entities: LEI code (Legal Entity Identifier). It is visible for every entity. Remember that if you don't need it (or any other field), your account administrator can hide it in the Account-->Edit Settings page.
---
NEW TYPES TO FINANCE&ADMIN CATEGORY
Based on the wishes of our customers, we have created new Types for the Finance & Admin category. The new types are:
ESG

Financial planning

Financial statements

Mergers & acquisitions

Property

Strategy

Remember that you can always create your own Custom Types!
---
OTHER UPDATES

Automatic title extraction from files in Add Contract functionality
Adding a contract is now even easier: Click the Add Contract button in the List View or Folder View pages, attach a file to the contract, and we will add the file name automatically as the title of the contract if the title field is empty. If you attach more than one file, the first file's name will be added as the title. This works in all contract management categories (Contracts, HR, etc).
Info about users' MFA for admins
Account administrators can now see on the Edit Users & Access Rights page that users have enabled Multi-Factor Authentication (MFA). Coming up next is the possibility for the administrators to force MFA for all users in the account.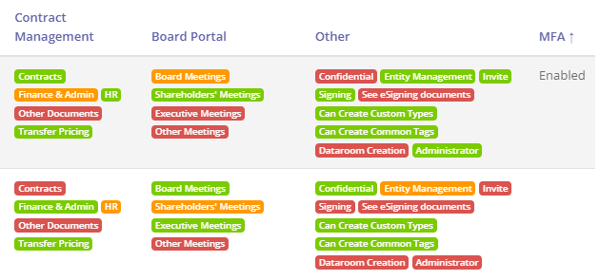 Meeting duration can now be disregarded
Sometimes, it is not necessary to set a duration for a meeting. Now, you can select a dash (-) as the duration for a meeting on the Overview page. Then, the meeting's end time will be the same as the start time.
Board Portal Document Library improvement
To help you organize your documents in any meeting category's Document Library, we have added grouping titles to the page. Those titles are created automatically from the Document Types you create and select for your documents.




SignHero eSignature authorization improvement
We have noticed that sometimes SignHero requires users to do a reauthorization, i.e., connect the SignHero account. To make this easier, now the reauthorization button appears automatically on the Send for the Signature page to all users who are required to do that. So, the administrators don't need to disable/enable SignHero anymore in the Store.


---
November 12, 2022
ContractZen UI updated!

WHY?
a) To make the navigation easier.
b) To make many notable features more accessible.
c) To improve onboarding.

HOW?
The update is automatic, so you do not need to do anything. However, if you use more than one of our solution areas, after the update you will be asked to select your preferred landing page.
Short Summary of the UI Changes
All the main solution areas (Contract Management, Board Portal, Entity Management, Datarooms) will be shown below the header, so they are more accessible. The users will only see the solution areas and categories they have access rights to.

Now, it's even easier to perform searches as the Full-text search (with search operators like AND, OR, NOT...) and Saved search filters are always visible at the top of the List View page.


We have added more functions to the header, so they are always accessible. You will find there, for example:
Global search (search through the whole account)
Calendar with all reminders
Inbox (documents sent by email)
Your recent documents
Activity feed (activities of all users)
Settings.

Because all the main functions are now always accessible, the need for the current dashboard was diminished, and thus, we have removed it. We will be re-designing it and will bring it back in the future.

Also, as all the solution areas are always one click away, the left side menu will be removed for now.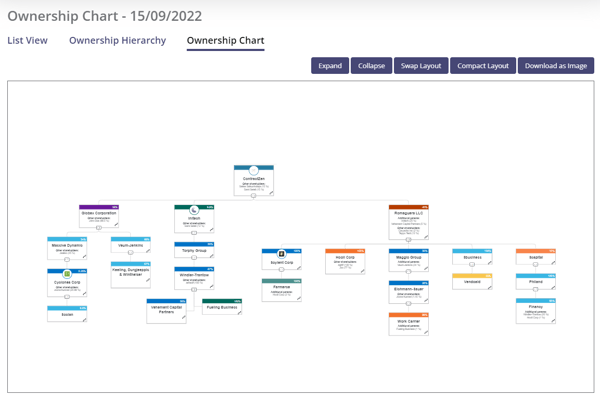 All solution areas have been updated with the new header and navigation.

There are some other minor usability changes (like naming and the positioning of the buttons.)
Select your landing page
This update does not require anything from you. However, since the dashboard will be removed, if you use more than one of the main solution areas, you will need to select a page you want to be directed to when you sign in.

You can already go to your User menu (https://my.contractzen.com/User/Manage) and select the page (check below screenshot). If you don't remember to do that before the change, no worries. We will direct you to your Personal Settings to make the selection after the UI update is done.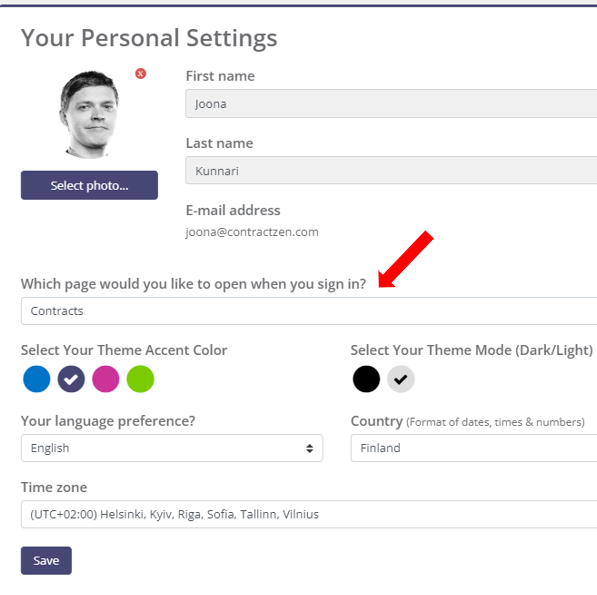 ---
May 5, 2022
POWERFUL BOOLEAN OPERATORS AVAILABLE
Search lightning fast through all your metadata and document contents, indexed by Microsoft AI-powered OCR, with Google-like search commands like AND, OR, NOT.
Search as you do with Google
You can now combine your search terms with Boolean operators: AND, OR, NOT, *, (), "". Simply type your keywords and the operator(s) in the dashboard search boxes under contract management categories, header search bar, or text search in any category's filters. It works in contracts, meetings, entities and VDRs!
Read more about how to use the operators at https://contractzen.uservoice.com/knowledgebase/articles/1990024.

Use the operators also with advanced search filters
The multi-select fields in contracts and meetings (Type, Custom Type, Common Tags, and Access Groups) now have the option to choose between AND/OR operators. So, you can decide if your search results must fulfill all or just one of the filters.



Search through documents, images and even photos
Please also remember that with our Full-Text Search and Microsoft Azure Computer Vision based OCR, all the document contents within your account are automatically and securely indexed by Azure Search. It does not matter if the files are images or even photos - anything goes! You will find all you need within your documents, for example, a certain clause, a project name, a person or a product code. (If the OCR for some reason is not enabled in your account, your administrator can take it into use in the Account Settings.)
---
April 21, 2022
GOOGLE LOGIN AVAILABLE
Google Authentication is now available for ContractZen users. New users can choose in the register page to authenticate with Google. If you are already a user in ContractZen, you can switch to Google SSO in the User settings (click your profile picture in the upper right corner and choose User).
While you're at it, we suggest that you activate Multi-factor authentication (MFA) as well in the User menu - as it helps you to keep your account safe and secure.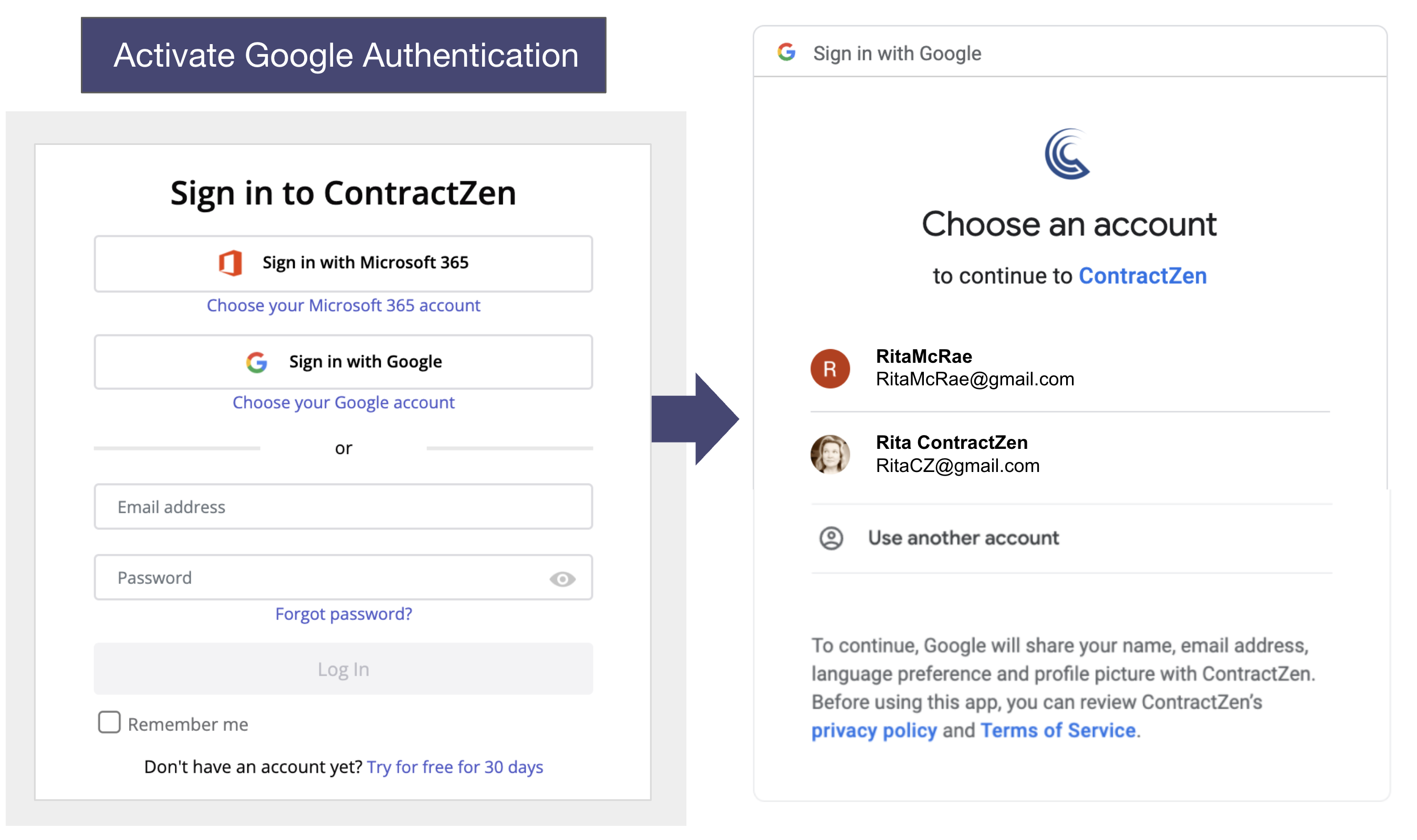 ENTITY MANAGEMENT UPDATES

Show route to the parent
The ownership chart in Entity Management has now the possibility to show the route from a company all the way to the parent. Click the route icon on the bottom right corner of any company in the chart. It will hide all other companies from the chart except the ones on the path. You can also download this view as an image. Click the same icon (or refresh the page) to show all companies in the chart again.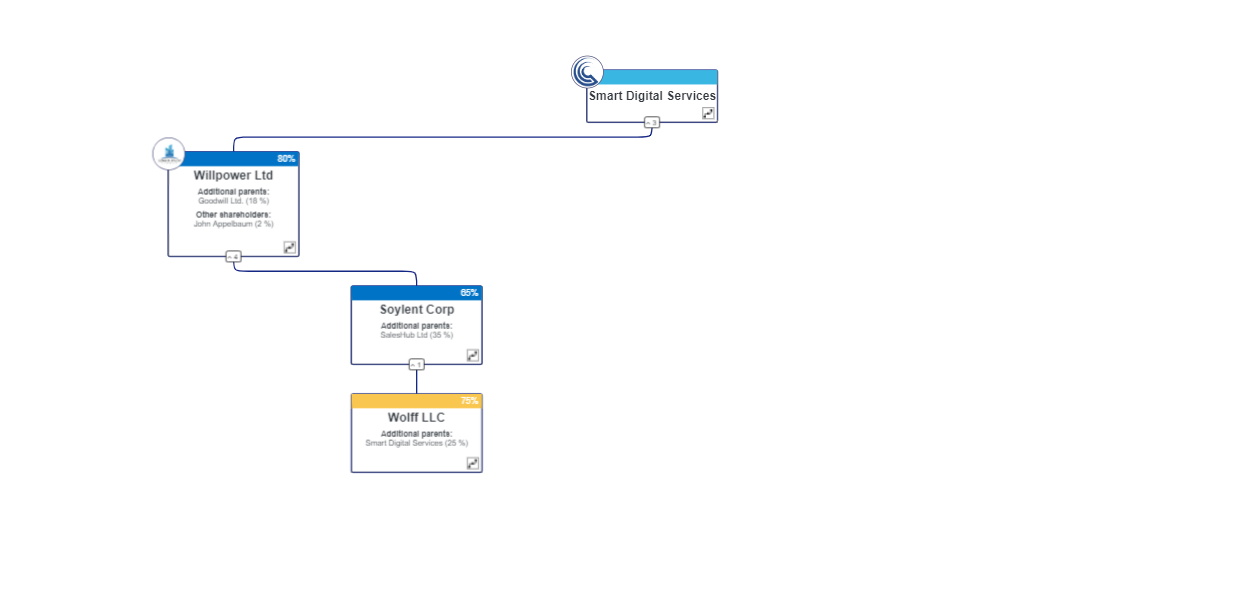 Excel export
Now it is possible to export the company details from Entity Management to Excel. Simply, go to the list page of the companies, scroll down to the bottom of the page and click Export to Excel. It will export all the metadata fields of the companies.
OTHER UPDATES
New search filter: Reminders in 30, 60 or 90 days
We have added a new search filter. It will list all contracts with reminders coming up in the next 30, 60, or 90 days (incl. expiry dates). You can find it from the dashboard under each contract management category, so it's super easy to access your upcoming reminders directly from the dashboard. This search filter is also available in the Search Filters when you go inside any contract category.

Dashboard updates
We have made a couple of updates to the dashboard:
You can start a text search in any contract management category directly from the dashboard. Just type the search term into the search box under the specific category and press Enter. Remember that it will also use the OCR to search within the content of your documents as long as you have it enabled in your account settings by your administrator.

The new Quick Links section is available to account administrators. It allows even easier access to the most needed settings. Also, there is a link to our latest Feature Updates and to our Share & Get Rewarded program page!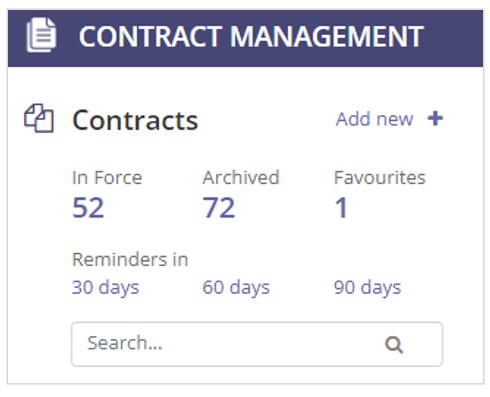 Estimated Time field added to Meeting Agenda
In the meeting agendas, there is a new field for Estimated Time. It is a plain text field visible in every agenda section. It will be visible in the MeetingBook PDF file as well.

Referral program: share and get rewarded!
Remember our Referral Program: If you share ContractZen with a friend and they become a paid customer, you will both be rewarded six (6) months of free usage for one user. You can find the program details at https://info.contractzen.com/share-get-rewarded.
----------------
November 18, 2021
New mobile apps available!
We are excited to introduce our brand new mobile apps!
The fully-featured app lets you find any important contract information or meeting detail with your mobile device anywhere, anytime.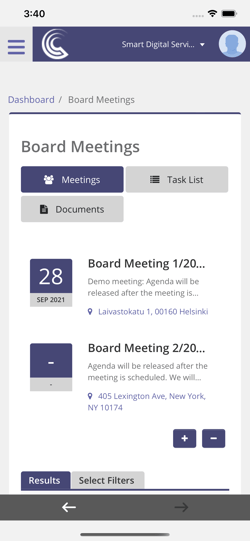 The app works almost exactly as the browser version with a few small exceptions due to technical and App Store restrictions:
In-app Store and VDR creation are hidden (however, you can access and manage your existing VDRs).
Excel export is disabled in Android apps.
To take our mobile apps into use, go to Google Play Store or Apple App Store and search for "ContractZen", or simply follow these links and download the app:



Video conferencing link added to board portal
We have added a new field to the meeting management overview page named Meeting Link. There you can add a link for your online meeting in Microsoft Teams, Zoom, Google Meet, Webex, etc.
The link is automatically added to meeting invite emails and to the iCalendar file (.ics), which you can send simply by clicking Invite on the meeting overview page.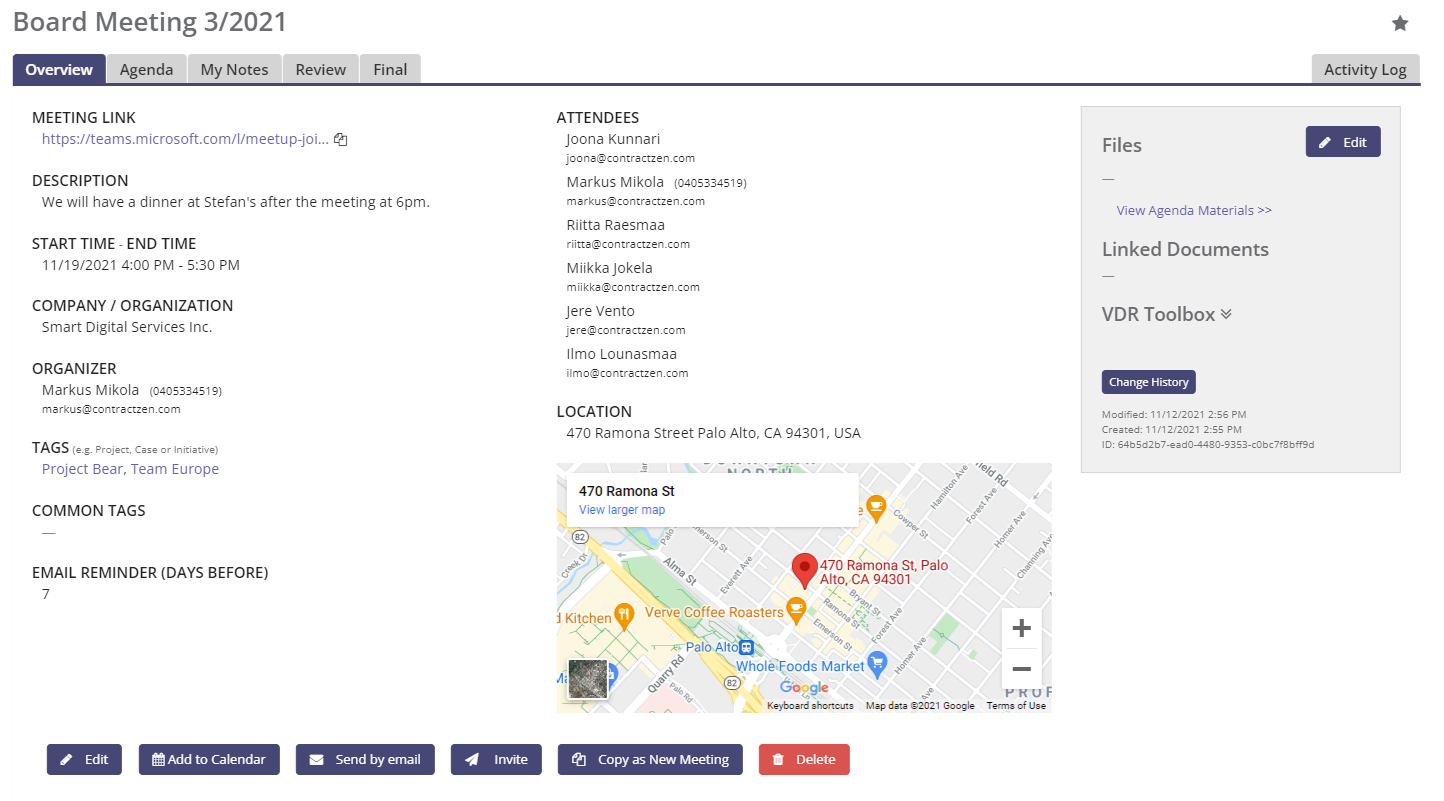 ContractZen Teams app now available for purchase in Teams Store
Earlier this year, ContractZen was chosen by Microsoft for its Early Access Program (EAP) for Microsoft Teams. Our solution is now one of the first transactable offers in the world in the Microsoft Teams app store as well as the Teams Admin Center!
Have you already tested it? It's free of charge for our existing users.
With the ContractZen Teams app, all your meeting materials, contracts, and other important documents are just a click away in Microsoft Teams. You can use all ContractZen features in the Teams app: Contract Management, Board Portal, Entity Management, Virtual Data Rooms, and eSignatures.
You can install the ContractZen for Teams app directly from the Microsoft Teams Store:
SignHero will no longer be free of charge
SignHero has recently announced that they will introduce a service fee in their eSigning service, so it will no longer be free of charge. In the future, their service will cost 5€/user/month. It will affect you if you are using SignHero directly from their website or via ContractZen.
If you have been using SignHero before, it is still available for free until January 1st, 2022. If you do not wish to use the paid version, you can just remove your account. If you want to continue using their service, you need to add payment details in your SignHero account https://signhero.io/#/signin. In case you are a SignHero user, you should have received an email already from SignHero about this update. If you have any questions, please contact SignHero.
----------------
October 19, 2021
Entity Management version 2.0 now published!
We are proud to present the updated version of our Entity Management tool (formerly called Company Register) with several new features based on customer feedback.

With ContractZen's Entity Management, you can compile and control the corporate records of a company, such as directors and officers, ownership structures, corporate names, and procuration holders to support all transactions, filing, reports, and audits.
New Features of Entity Management v2.0
Our updated Entity Management includes the following features.
New design style in the Ownership Chart including:

Compact Layout allows showing many parallel subsidiaries in a more practical way.
Swap Layout allows you to choose whether to show the tree structure facing up / down / left / right.
You can close and open any node in the chart.
Each node shows the number of subsidiaries under that company.
If a company has additional parents, it is shown below the company name. In the same place, it shows possible other shareholders (e.g. private investors).
Download the chart as an image easily.
Possibility to hide a company from the ownership chart.

Administrators can choose which fields are required and/or hidden in the company metadata. Simply go to Account->Edit Settings->Edit Document Field Settings and choose the correct fields under the Entity Management tab.
If a company has lots of different kinds of documents, you can use the Files by Tags page to organize the documents by using File Tags and Description.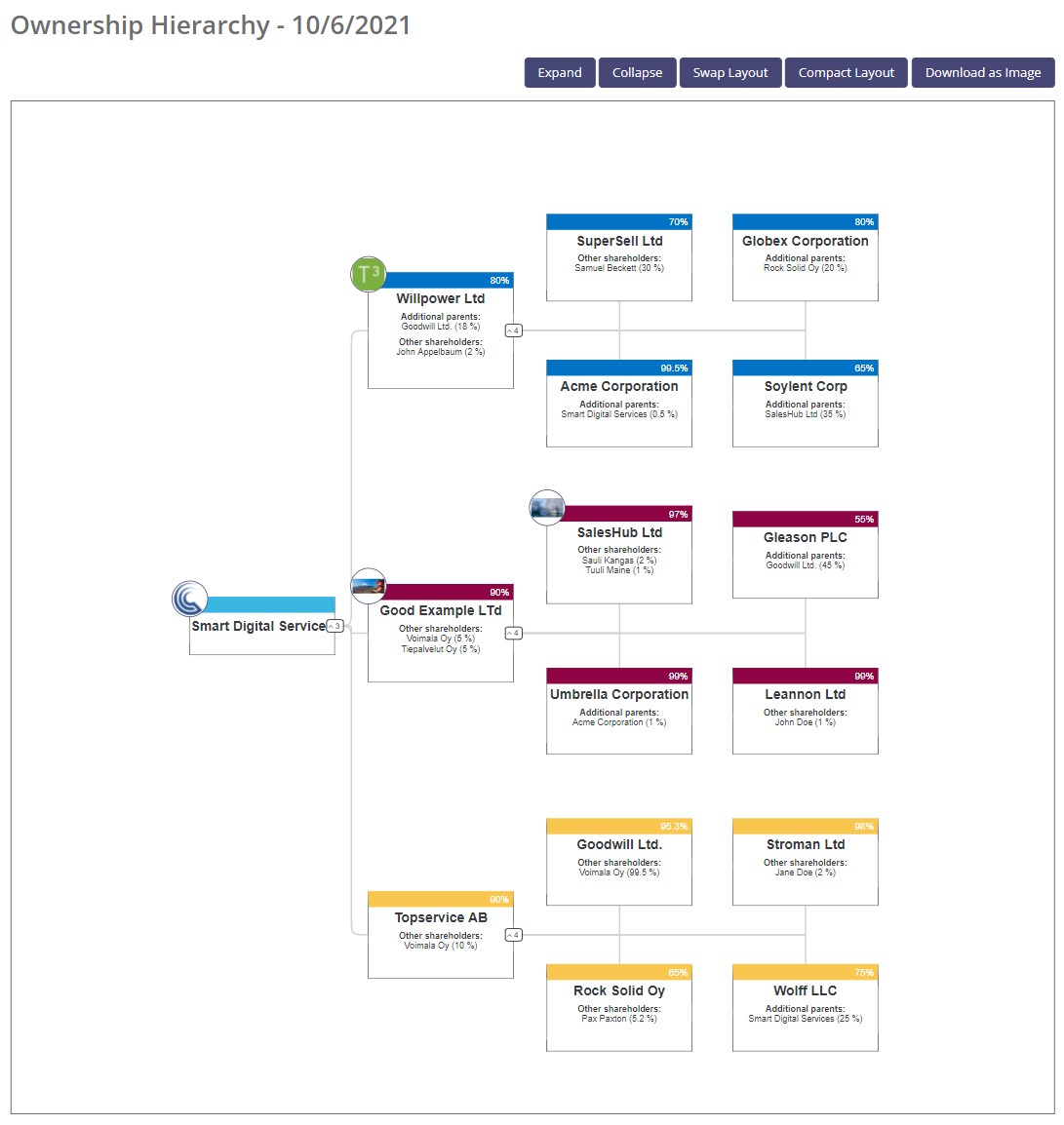 Swapped layout in the Ownership Chart.