Traditionally, enterprises are seen as large, unwieldy organizations that are slow to adopt new tools, approaches, or business methods.
However, today's business market demands the opposite; companies merge and spin off from one another like lightning, the business climate can change overnight, and windows of opportunity open and close with just a moment's notice. Or at least that's what it can feel like much of the time.
It's vital for today's enterprises to adapt to match their quickly-evolving business environment. Fortunately, business tools are a step ahead and ready to help, in the form of enterprise-grade SaaS products.
The traditional process of discovering software: long and slow
Just a few years ago, sourcing new software products was a long and convoluted process for business software users. Different options had to be researched and investigated. Many employee hours were dedicated to compiling and sharing proposals with higher-level managers and executives, who, in turn, had to spend time discussing budgets, comparing proposals and assessing compatibility and feasibility issues with the help of IT managers.
Stakeholders lost valuable work time in sales presentation demos and talking with B2B marketing and sales agents, before they even began writing and sending RFPs, analyzing responses, and trying out product demos.
When a new tool was chosen, installation was long and disruptive. The relevant departments had to wait until a field technician from the software company came to install and configure the new solution on a local server. Often, the entire infrastructure was affected by the installation, preventing all employees from continuing with their regular work.
Once the new tool was installed, it could take a long time to educate employees in using it, despite the massive pressure of needing to prove ROI as fast as possible, in order to justify the time and money cost of sourcing and installing it.
It was a grueling process that was expensive and full of friction.
SaaS tools make business software users fast, agile, and responsive
SaaS tools like ContractZen change that environment for the better, cutting through the friction of finding and getting started with new tools.
Instead of paying for an enterprise-wide solution straight off the bat, you can start with just a few people in your team, and then onboard more employees a few months later, according to your business needs. And because cloud-based hosting and browser-based delivery make for highly scalable and accessible products, today's software ecosystem is a completely different animal from what it was even two or three years ago. Today, vendors can roll out major updates at the drop of a hat.
Instead of spending time completing lead forms and watching demo videos, which are out-of-product interactions, a self-serve SaaS tool lets you try it out on your own, so you can see how much value it brings to your business life.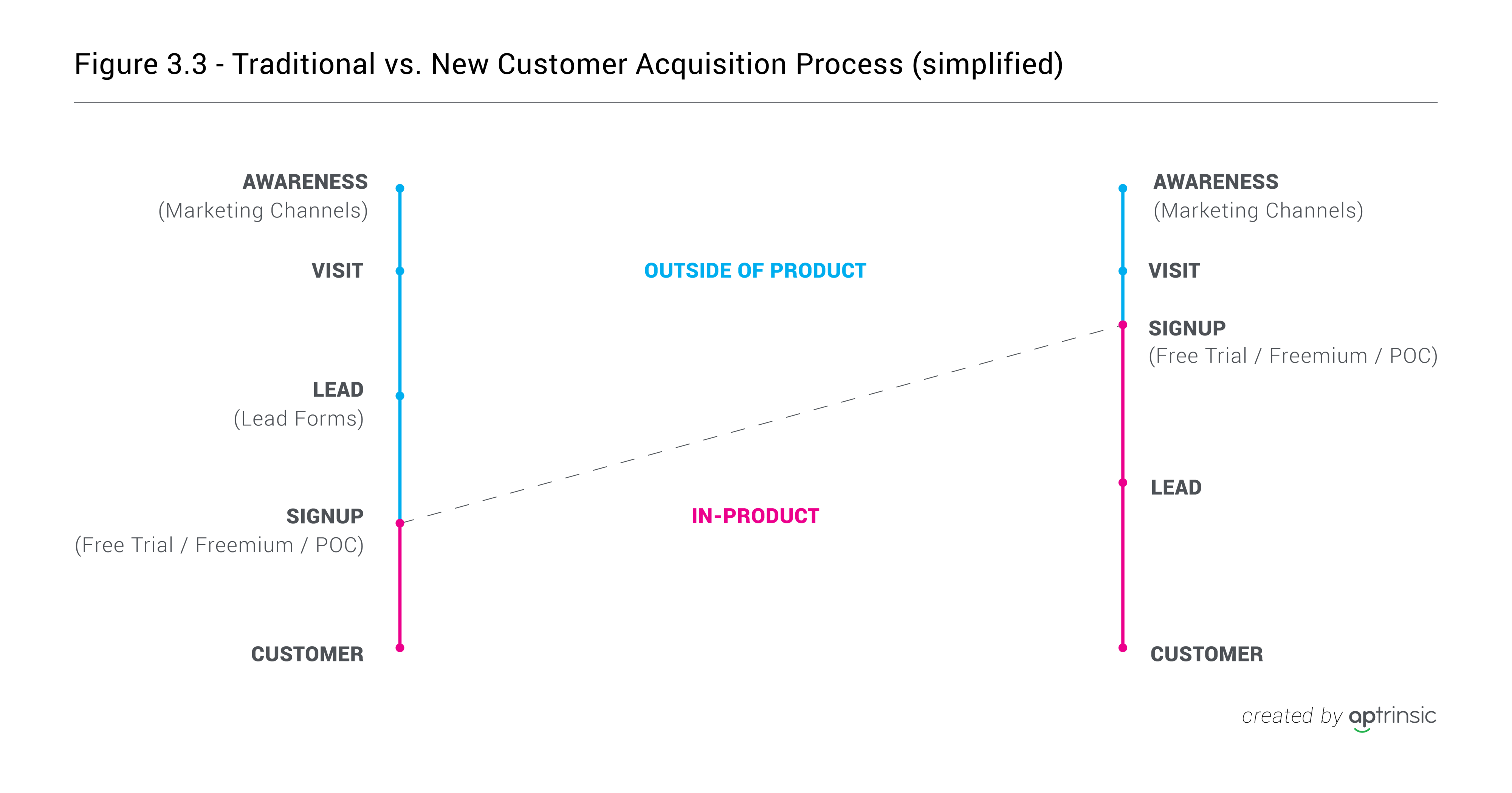 Image source: https://intrinsicpoint.com/ch-3-show-dont-tell-1c14171f6a12
The lack of installation demands and speedy, self-service onboarding processes, often involving free trials, allow enterprises to respond quickly to new circumstances, keeping them ready for every eventuality.
These advantages of SaaS tools also deliver a much faster return on investment since employees can access the full benefits in a short span of time.
Panu Hannula, the COO of Musti Group, the fourth largest pet supply retail chain in Europe, said it best. "Our growth strategy left us no time to waste on a traditional adoption implementation project and training," he said in a case study interview with ContractZen. "The solution had to be made available to different branches without delay, and we wanted it to scale to further needs in an extremely agile manner."
Indeed, no one enjoys an aggressive sales pitch, but at least today the software buying and onboarding experience has changed for the better. You can do your own research online, "test drive" one or more tools that seem relevant to your needs, and sign up for your preferred software in your own time and at your own pace, without going through a sales agent.
Not every software vendor's onboarding 'gets it'
A recent Gartner survey found that when it comes to sourcing software, B2B buyers spend 27% of their time in independent research online, and another 18% on independent offline product research, but only 17% of the process meeting with potential suppliers.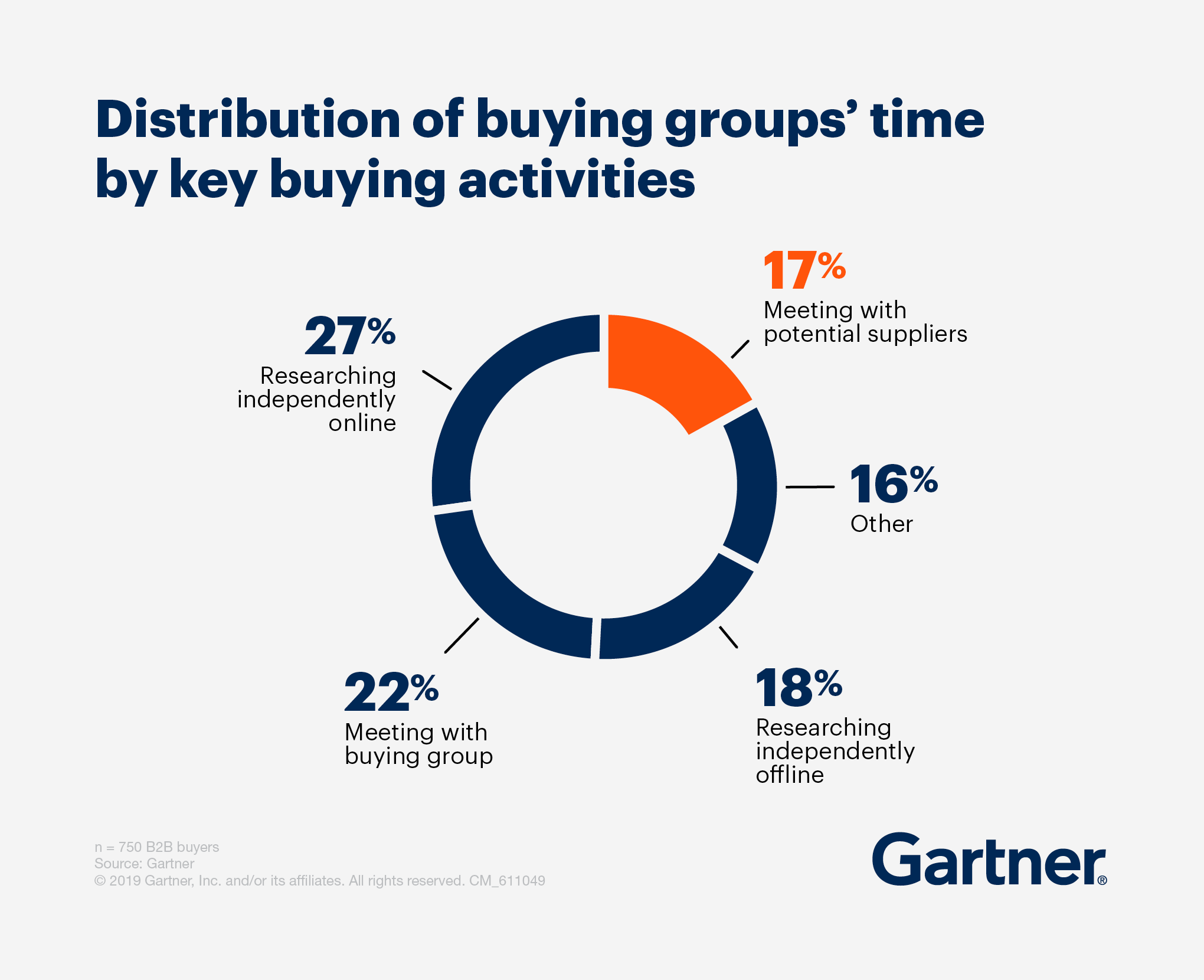 Image source: https://www.gartner.com/en/sales-service/insights/b2b-buying-journey
And sourcing enterprise software involves absorbing an inordinate amount of information in order to make the right decision. Gartner found that 88% of B2B buyers feel overwhelmed by the data they encounter during the buying process, but free trials and app discovery directories help reduce information overload.
Just like students in a classroom, who remember more from hands-on learning than from a teacher lecturing from the front of the room, product trials enable you to process information faster and more easily than listening to a presentation or watching a demo.
Why spend time listening to someone tell you how good their app is, when you could discover it for yourself through a free trial or free basic version? You don't have to schedule a phone call with a sales rep before you download a new shopping or health app, so there's no reason to do so for a new enterprise tool.
That's why you can find ContractZen on product discovery directories like Software Advice and app marketplaces like Microsoft AppSource, as well as direct opt-ins from the ContractZen website.
Customers have told us that the overall experience of finding and starting to use ContractZen through Microsoft AppSource is awesome. It's so easy to search for the type of tool you need, find ContractZen, and unleash the value it brings your company, one user seat and one functionality at a time.
For example, you might decide to try out our platform because you're looking for SaaS that simplifies contract management, and only months later decide that it's worth trying out our electronic signature software, meeting management, board portal or virtual data room solutions.

Image source: https://www.slideshare.net/MSTechCommunity/building-apps-and-services-for-azure-marketplace-and-appsource
I recently had the opportunity to discuss this topic in an interview with Kirsten Edmondson Wolfe, the Senior Director of Microsoft AppSource Product Marketing. The way I see it, the beauty of listing SaaS tools on Microsoft AppSource is that enterprise customers can browse through all the great enterprise solutions in one store, pick something out and try it for free, and then enable the people in your organization who need it to start using it straight away.
This fast adoption process isn't disruptive to the rest of the organization. And that's why Forrester predicts that three-quarters of all businesses will turn to app marketplaces to discover and adopt the products they need within the next two years.
SaaS tools make enterprises more agile
Today's business software users can take advantage of low-cost, scalable, and agile SaaS tools. As Musti Group's Hannula summarizes, "Success in today's market stems from agile, renewing, scalable and cost-efficient cloud services with a superior user experience. The time of monsters is practically over."
Because fewer resources are wasted on discussing, investigating, and onboarding the new tool, middle managers and even line-of-business users have greater freedom to find and use new tools whenever they feel the need, enabling a faster response to new situations and bringing more agility to the entire company.
SaaS tools like ContractZen are easy to find, easy to install, and easy to scale up as needed, allowing enterprises to increase their speed of response in stormy and changeable market conditions.
---
About ContractZen
ContractZen is a Finnish cloud technology company founded in 2014. Its all-in-one SaaS solution includes metadata-driven contract management, all-digital board portal, virtual data rooms (VDR), secure e-signatures, and more. Secure and easy to use on any device, ContractZen improves corporate governance and business operations by reducing costs, accelerating processes, and minimizing risks.