We listened to all your feedback and are thrilled to announce that we have added many new features and created new pricing plans to improve the value you get from ContractZen.
The Advanced pricing plan includes several new features, for example:
Custom metadata fields
Shared email inbox
Enterprise-wide user management
Subsidiary structure
Access groups
API
1TB storage space


Complete list of the features and pricing can be found at our website: https://www.contractzen.com/pricing/. Please note that no changes will be made to the Standard pricing plan.


SOME OF THE MOST IMPORTANT NEW FEATURES
Custom metadata fields
With the custom metadata, you can create your own fields to track the information specific to your organization. There are multiple field types to choose from (e.g. text, multiselect, date). The created custom fields can be used in the search filters and we create dynamic folders automatically for them. They are also visible in the Virtual Data Rooms.

Shared email inbox
With the shared email inbox, you can allow people to send contracts directly to the account, even if they are not users. For example, your sales people can send the signed documents to the inbox, and then the users who manage the shared inbox can take care of the importing.
Subsidiary structure and Enterprise-wide user management
Larger corporations can manage their subsidiary structure easily in the Advanced plan. You can create child accounts to the parent, add users easily to the subsidiaries and search contracts from all companies at once.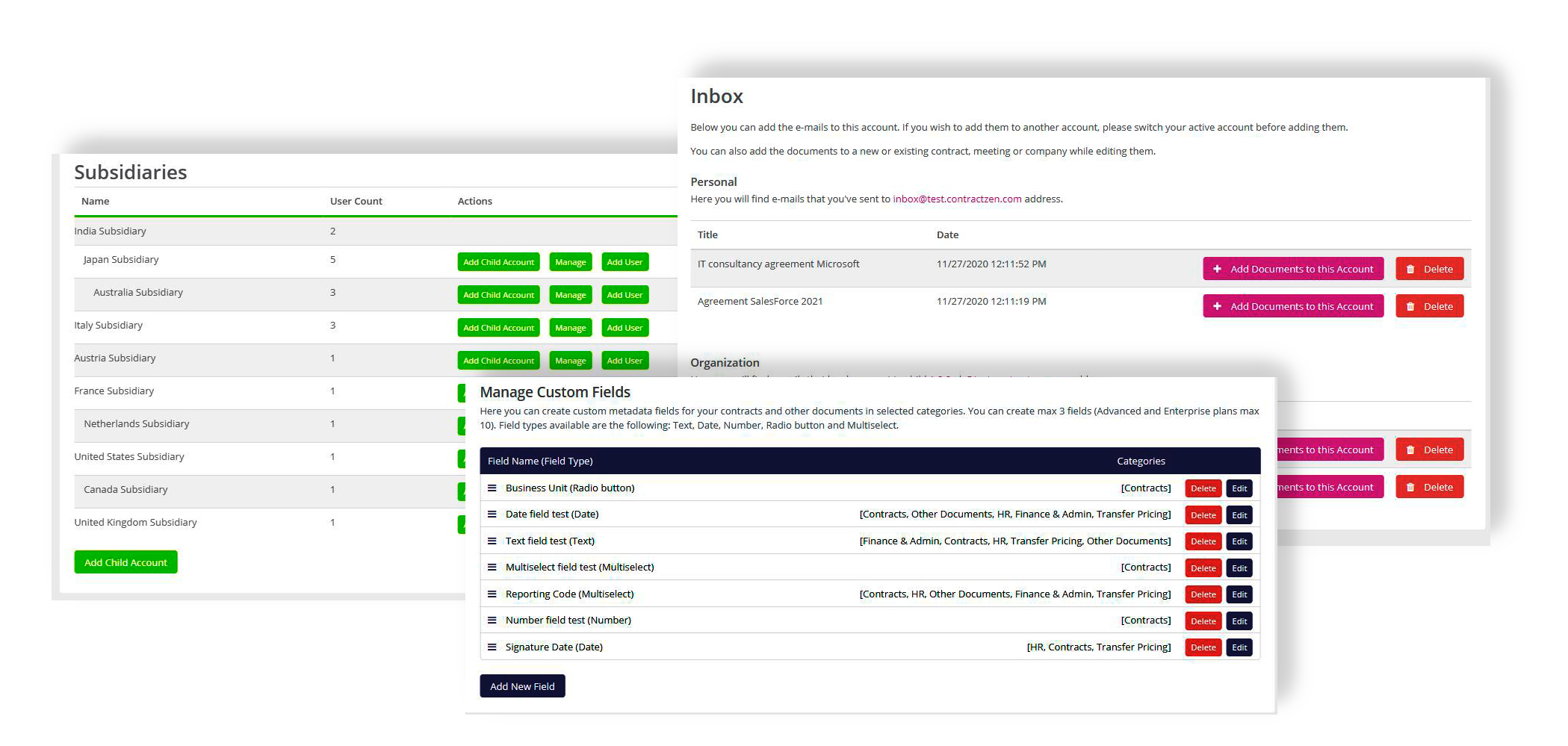 SEASONAL OFFER: 50% OFF CUSTOM FIELDS

Some of the new features can be purchased as add-ons to the Standard plan (e.g. Access Groups, Custom Metadata Fields and API).
If you purchase the custom metadata fields by the end of this year, you will get 50% off the first annual subscription price!
If you want to purchase and take the custom metadata fields into use:
Visit the in-app Store for additional information (please note that you need to be an administrator).

Contact us

and let us know you are interested. We will give you a demo if you wish.
After we have enabled the feature for you, click your profile picture in the upper right corner and choose Account.
Choose Manage Custom Fields.
Create 1-3 new fields and select their settings.
The fields are instantly visible and usable in the selected categories.



SUPPORTED BROWSERS

ContractZen supports all modern and up-to-date browsers. Recently, we have noticed that some customers using the old version of Microsoft Edge have had issues with the service. After updating the browser, the issues have been resolved. So, please make sure you are always using the latest version of your browser!
Also, we have decided to drop support for Internet Explorer as Microsoft will end supporting it soon and the new Edge browser is being widely adopted by organizations.
More info about the supported browsers can be found here.
Most of the new features we bring to the ContractZen service are based on ideas from you, our customers. So, thank you! Please keep on suggesting new features or improvements in ContractZen User Forum, and check out what other users have already suggested.

If you have any feedback, please do not hesitate to contact us.
Kind Regards,
ContractZen Team