Improving Transparency & Security of Global Contracts & Board Meetings: Case Normet
Normet is a rapidly growing technology company whose mission is to improve the productivity and safety of underground mining and tunneling processes with knowledge and technology while maintaining high standards of corporate governance. Ready-to-use cloud solutions from ContractZen, built on Microsoft Azure, are helping Normet manage its contracts and conduct board meetings in a transparent and secure way. Convenient features and functionality, like Microsoft 365 single sign-on, made deployment of the ContractZen solution throughout Normet effortless and fast, enabling the company to focus on its core mining technology business and meet increasingly strict regulatory requirements.
Normet is a technology company whose core business and mission is to improve underground mining and tunneling processes with knowledge, technology, and expertise gleaned from over 50 years of experience in the industry. Known for its innovative spirit and forward-looking vision, Normet delivers solutions that make working conditions safe for underground construction, and the related processes themselves more efficient and effective for underground construction companies worldwide.
Faster growth—greater governance challenges
With around 50 locations in 28 countries, Normet's global footprint was expanding at an ever-increasing pace. But with this rapid growth came increased pressure and greater scrutiny, especially as the company faced regulations from a growing number of different countries. Decisions now needed to be made faster, but not at the expense of compliance,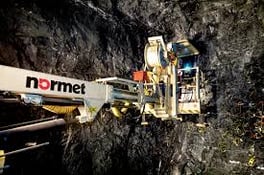 while contracts created around the world demanded greater transparency. In addition, cybersecurity and regulations regarding documents and data became more important—even board meetings needed to become completely digital to improve security and data flow. To continue its current growth path, Normet needed a solution that would help it meet these governance challenges. Fortunately, it found such a solution with ContractZen.
"Normet has been growing rather rapidly in the past few years, and this has created the need to have global transparency with contract management, since contracts are made all over the world. In addition, we needed a way to share and store materials for our board of directors in a safe and secure manner."


Kimmo Karihtala, Normet's General Counsel.
Cloud solutions for an underground business
Built on Microsoft Azure Platform-as-a-Service (Paas) and among the earliest solutions to be offered in the Microsoft commercial marketplace, the ContractZen governance solution fully utilizes the Microsoft Azure technology stack, including Azure App Service Web Apps; Azure Cognitive Services; Azure Search; Application Insights; Azure SQL; and more. For Normet, ContractZen delivered a governance solution that included both contract management and a board of directors portal, plus a virtual data room solution and integrated e-signatures, which made processes faster and more efficient. Additionally, since Normet was already a Microsoft 365 user, the ContractZen solution meshed easily with the company's existing application infrastructure, while Microsoft 365 single sign-in made deployment fast and simple.
"We chose the Azure-based governance solution from ContractZen because it provides both contract management capabilities as well as digital governance for our board of directors' materials. As a cloud-based service, it was also easy to implement, and through the Microsoft 365 single sign-on, it fits well with the corporate infrastructure we have in place."
More transparent, more secure, more growth
For a fast-growing company like Normet, the old adage that "time is money" certainly rings true, which is why the simplicity, rapid deployment, and ease of use of the ContractZen solution was exactly what Normet was looking for.
The solution and related services were ready to use immediately without time-consuming implementation projects, while company-wide adoption was just as fast thanks to an excellent user experience.
"What surprised us with ContractZen is that it has multiple functionalities. As an Azure-based solution, there's a lot in one package for companies like us. I would definitely recommend ContractZen to any company in a similar situation as we were."
With the help of ContractZen, Normet has reached a new level of efficiency in how contracts and board documents are handled and archived. The company's global operations are now more secure and transparent, and collaborating with partners around the world has never been easier.
Check out the below video to see how ContractZen supports Normet's international growth.
ContractZen is a Finnish cloud technology company founded in 2014. The all-in-one SaaS solution includes metadata-driven contract management, all-digital meeting management, virtual data rooms (VDR), secure e-signatures, and more. The company has customers in over 30 countries and offices in Helsinki, Finland, and Palo Alto, USA.